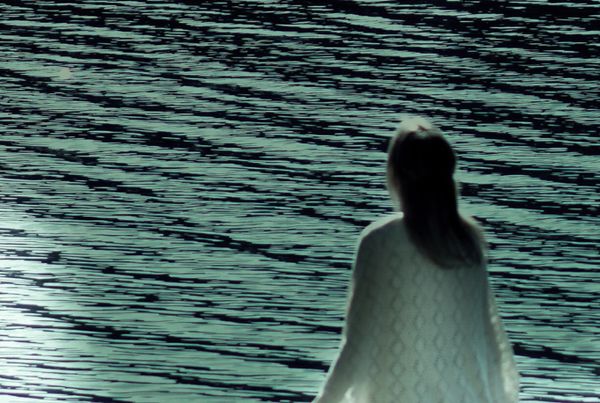 1. WHEN MEANINGLESSNESS KNOCKS
when meaninglessness knocks at your door, 
welcome - with open arms. 
because she is the gate through which these 
smiling eyes descend 
and make their home within. 
then looking, seeing, all is 'yes' 
such bliss, such wonder, 
joy. 
let it be clear. 
pray for meaninglessness, 
"come, come more!" 
until this 'I' adrift with folly does dissolve. 
and in its place remains 
a simple, dancing presence. 
light-ful 
joy.
2. THE CUCKOO'S CALL
and I have heard the cuckoo's call. 
her cry does echo through the forest treetops - ancient, 
swathed in mists of time. 
and in each song a silent invitation lies, 
a thread when caught that leads unto an open plain; 
an empty quiet place. 
untouched, untrod, unclaimed. 
where waters deep do mix and mingle with the open skies, 
and all that was and is and will be 
does arise. 
and I have heard the cuckoo's call. 
she paints a scene of white, on white, on white. 
a canvas, endless - stretched as far 
and yet still further than the eye can see. 
and in this endless vista, 
with no end nor yet begin, 
there can be seen the traces 
of the scripts of old, 
reminding all of what we can behold.
and I have heard the cuckoo's call. 
and I have seen the wild geese 
chase across the shadow of the moon; 
and felt how fire once hot 
can change to flames of cooling blue. 
and yet, 
still greater than all wonders, 
magnified, 
behind it all, yes I have heard 
eternity's sweet sigh. 
yes, I have heard the cuckoo's call. 
and in the waking music of her timeless cry, 
the silence, 
that behind the sound does lie. 
oh, cuckoo of the forest, 
come - come near! 
so that this song of empty silence, all... 
all, may hear.
3. IN QUIETUDE
in quietude, 
the madding crowd does fall away. 
alone one stands; no more, no less. 
no words arise within this silent land. 
yet laughing, dancing eyes say all, 
and understand. 
in quietude, 
a blanket thick descends so soft 
and slows but all unto a graceful stop. 
all moves; yet one still point retains the center. 
yes, this quietude remains. 
this quietude 
descends unasked, 
and bids each one to dance unto her tune. 
a silent bird may pass ahead, 
a gentle flame may flicker on the wall. 
yet in her graceful presence 
all is nothing, 
'not' at all.
4. THE PATH TO HIDDEN TREASURE
the path to hidden treasure lies revealed 
not there 
upon life's normal streets or ways, 
but here 
before the very thought of searching has occurred. 
the path to hidden treasure finds revealed 
in moments sweet 
where heart is open, wide. 
in letting go, 
and seeing from deep inside. 
the path to hidden treasure will not show 
when eager minds demand. 
not even when the thirsty heart 
should groan in longing 
will the way itself reveal. 
so let me lay all thoughts of searching at your door, 
and drown this heart of longing at the shore. 
Then empty, silent, open - turn and see... 
the hidden treasure 
that is me.
5. THE HEART OF BLACKNESS
there is a sweeter music still, 
beyond the pleasures of this world. 
the peaks and valleys, florals sweet; 
the sparkling star or joyful brooks 
have nothing to compare... 
...with this heart of blackness, 
velvet, deep, 
enveloping ALL. 
it is the blessed soul! 
the treasures of this world are nought compared 
to our true home. 
all that we know will scatter, wide - to dust. 
and yet, it holds us all this blackness, 
luminescent! 
our true home. 
into this darkness now, I surrender. 
and thus from now cease all fight. 
and lay instead this weary soul, 
into your blackest light.
6. THE MARKET FOR COLORED STONES
why do you continue to shop for colored stones 
in these crumbled market quarters? 
lift the veil from your eyes. 
for you have seen the real jewels, 
have felt them shower; 
have known their worth. 
you have the eye to discern. 
use it 
wisely. 
how often will you return to gaze in longing 
at their glint and bluster? 
believing that once owned all longing will be stilled? 
cease returning to the same seller of illusions. 
even if you were showered by a 1000 of those stones you so 
desire, the chest you seek to fill 
will never be full. 
next, when you find your footsteps leading you towards this 
dusty market stall... 
STOP
look up into the sky, 
beyond the city turrets, 
golden rooftops, 
up, up, up and out... 
and in that moment, remember, 
my smile. 
and my hand will lead you back from the fray, to here, 
where in clear waters, 
the true jewels do lie. 
be wise. 
ask for the real. 
the only price, 
that in you which will not stand the test of time. 
that in you which never did belong. 
jewels lie close at hand. 
the only payment, that which is 'not'. 
the best bargain in the market of souls!
7. NO FINGER, NO MOON
follow my finger to the moon, 
until you find the place where there is - no finger, no moon. 
follow my words, 
until you find that you, yourself, 
have no words. 
follow my people, 
until you realize they never were. 
follow the trace of the east winds 
until your search is scattered to the 4 corners. 
follow the gentle rustle of the breeze in the tree, 
until you find there is 
no sound, no tree. 
follow the fragrance of my flowering, 
until you reach the garden where you, yourself 
are that flower. 
become more and more YOU - until the explosion. 
and there is no you. 
don't follow my finger. 
look at the moon. 
until you find the place where there is 
no finger, no moon
8. BE AT PEACE IN YOUR HEART
child, be at peace in your heart. 
for even though with razor sharp vision you do see the 
follies of the world within and out. 
and, with an eagle's eye you do spy 
the dross upon the fields below, 
know there is a deeper world awaiting. 
this is not your final stopping place. 
fall back into the heart. 
the lands of the silent ones await. 
there, the eye that sees encompasses all. 
holding with a mother's tender softness, 
the picture in its wholeness. 
it is a wide seeing. 
a circled vision, all seeing all, as one. 
for only when the eye has touched upon this center 
of unfocusedness will all be clear. 
slip back into the silent heart. 
and with soft eyes that spark with laughter, 
see the world, 
anew.
9. THERE IS NO OTHER
there is no other. 
all arrows once without, now point to me. 
and poems once penned to 'thee' and 'thine' appear, 
absurdities. 
there is no other. 
only home, in home, in home. 
an echoed hall of mirrors, pointing only towards me. 
there is no other. 
no beloved stacked up there upon the shore 
as once I'd thought. 
and there's no shore, no water, ocean, wave... 
there is no other 
where, without, that can this thirsting quench. 
the thirst, the water, cup and drinker - now all gone. 
a kiss unto the stars that blessed this gift of sight. 
and starved the hungry ghost of 'I' its nourishment. 
there is no other, is no 'thee'. 
yet, who is this, 
that 'this' does see?
10. NOT A RIPPLE
not a ripple on the lake upon which the hungry 'I' does wish 
for a million boats to rush towards its shore. 
like a hungry ghost, wailing to fill its aching holes, 
it does scream! 
yet, what madness. 
turn and face the other shore. 
the one, where silently, 
the soul does wait. 
here, this clear, smooth, deep lake 
where not a ripple brushes, 
is welcome. 
upside down, or inside out? 
when will you turn this topsy-turvy world upon its head 
and see? 
which invitation will you choose?
11. THE VALLEY OF QUIET
the valley of quiet lies, 
just ahead. 
rest in the 
desert of no meaning. 
there, you will find the key to which 
all locks do fit. 
then all will turn upon itself. 
from struggle, 
to being free. 
within this quiet, 
all bow, to all. 
she comes unbidden, 
and leaves from the same door. 
leaving a trace of fragrance... 
lingering.